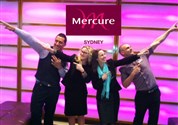 Mercure Sydney

Expires
Thursday, 24 July 2014
Mercure Sydney Meerkats
Hi there,
Mercure Sydney is taking part in Accor's Race to Survive: Mission Possible Australia 2013 to raise funds for Mission Australia. You can easily support our efforts by making a secure donation. We would also really appreciate it if you could share our page above or comment below so more people know about it.
Click 'Donate Now' to make a secure online donation.
All donations $2 and over are tax deductible and you will be issued with a DGR receipt via email as soon as you make a donation.
Thanks so much for your support!
Mission Australia
Over 155 years Mission Australia has learnt that the paths to independence differ for everyone. This informs how we work, alongside our partners, to help people secure jobs, receive an education, find housing and develop life skills. We all stand together with Australians in need, until they can stand for themselves.
Please make sure you are LOGGED IN. You can only join a Team Leader page if you are logged in and have an Individual page created. If you do, it will be displayed here once you've logged in. If you don't, please return to the 'home page' and follow instructions on how to create your Individual page.
FUNDOMETER
Target
$10,000
Raised So Far
$10,645
Target
$10,000
Raised So Far
$10,645
Team Members
My Total: $10,645
Team Total: $10,644.67
Biggest Supporters:
Mercure Sydney: $8,778.01
Mercure Sydney: $1,000.00